"Crank 2: High Voltage"
Action, Comedy and Crime. Rated R.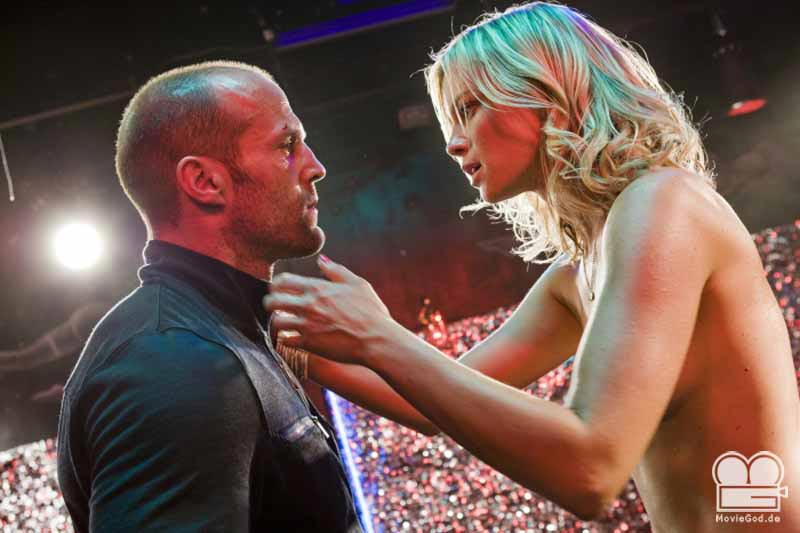 Photo credit: www.filmofilia.com
Jason Statham and Amy Smart in Crank 2: High Voltage.
First, he was poisoned, and now he's searching for his heart.

Jason Statham returns for another amped-up, hyperactive ride in Crank 2: High Voltage, reprising his role as antihero Chev Chelios. It's the same plot similar to the first but different, as the hitman survives jumping out of an airplane, crashing onto a car, and hitting the pavement. However, his day went from bad to worse when Johnny Vang and the Triads kidnapped him and operated on him. See, a man who calls himself Poon Doog (David Carradine) needs a new one and since Chev was so powerful to survive the poison in the original, arrangments were made for his heart to put into the old man. Now, as usual, Chev must keep himself and the artifical heart charge every hour in order to get his real heart back - meaning a lot of running, shooting, fighting, and a lot of sex at the horsetrack with on/off girlfriend Eve (Amy Smart) for everyone to see.

Like Smart, the sequel also includes original cast members Dwight Yoakum as Doc Miles, Reno Wilson as Orlando, and Efren Ramirez, who plays Venus, the brother of Kaylo, who was killed in the first. High Voltage also includes surprising supporting turns from 80s teen idol Corey Haim and Bai Lang, and even more surprising cameos from porn king Ron Jeremy, Spice Girl Geri Halliwell as Chev's mother, and former NCIS director Lauren Holly as the sultry shrink with a dirty mind treating the doctor who still has visions of Chev putting a gun to his head in the original.

Crank 2: High Voltage has an certain flavor that can be compare to Run Lola Run and the filmmaking style of Quentin Tarantino and Robert Rodriguez. With The Transporter and Crank movies, British actor Jason Statham has resurrected the "I'm tougher than you are", one-man killing machine army action hero once ruled by Sylvester "Rambo" Stallone and Governator Arnold "Terminator" Schwarzenegger back in the politically incorrect 1980s. Unless you're a fan of the first Crank, I wouldn't recommend seeing the sequel because you may forget all about it the next day. But still, Crank 2: High Voltage is a guilty pleasure to watch.