"Fired Up!"
Comedy. Rated PG-13.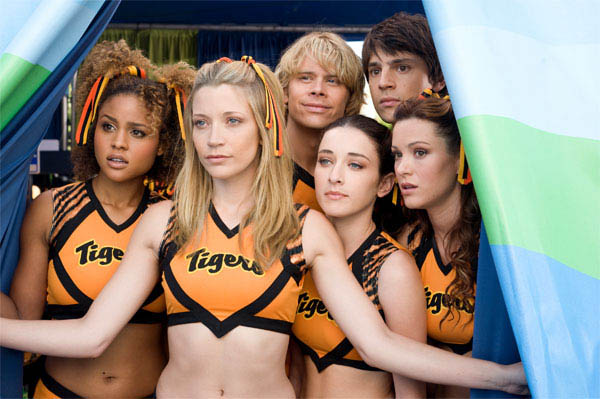 Photo credit: © Columbia Tristar Marketing Group, Inc. All rights reserved.
Sarah Roemer, Nicholas D'Agosto, Molly Sims, Eric Christian Olsen in Fired Up!
Fired Up! is a great movie for high school and college students. It involves football, cheerleading and partying. The film stars Nicholas D'Agosto, Eric Christian Olsen. Sarah Roemer, Dannell Harris and David Walton. It was directed and produced by Will Gluck. The comedy film is rated PG-13 was distributed by Sony Pictures. It lasts one hour and 34 minutes.
Shawn Colfax and Nick Brady are the stars of the Gerald R. Ford High School football team. They are not looking forward to football camp – two weeks with a bunch of guys and no girls. Upon hearing about the cheerleading camp, the guys become real interested. Three hundred cheerleaders and two guys, how could they turn it down? Shawn and Nick arrive at cheer camp and are amazed at the girls. They stand there in shock. They begin flirting with many girls and try to hook up with them.
The two guys are part of the Tigers cheer squad. An alternate squad, the Panthers, came in first place last year and was destined to take it again. The Panthers squad bragged about how good they are and attempted to make the Tigers squad look like they were losers.
Shawn falls for Carly (played by Sarah Roemer) who is the head cheerleader. She becomes suspicious of the two guys and their intentions. Meanwhile, Nick tries to hook up with Diora (played by Molly Sims), the female leader of the cheer camp. The two begin to form a relationship and will hook up later.
The guys originally planned to come to cheer camp for only two weeks out of the three. Shawn and Nick decide to pack up everything and take a bus ride home. About halfway home, the two guys think about going back to cheer camp. You'll have to watch the film to see what happens next.
If you like ABC Family's "GREEK" or "The Secret Life of the American Teenager", then this film is for you. It's a mix between "American Pie" and "Bring It On".
Overall Rating: A