Sunday, 9 May, 2010 2:45 PM
Steel Magnolia to perform at the 28th Annual Downtown Hoedown on Saturday, May 15
Photo credit: blogs.tampabay.com
New country duo Steel Magnolia
DETROIT -- When you hear the name Steel Magnolia, you may be thinking of the 1989 movie with Sally Field, Dolly Parton and Shirley MacLaine. But no, Steel Magnolia is a new duo hitting the country music scene. It is made up to Meghan Linsey and her boyfriend Joshua Scott Jones. The duo won season two of the television talent show Can You Duet. Their prize was a record deal with Big Machine Records in Nashville. Steel Magnolia will open up for Uncle Kracker at the Downtown Hoedown on Saturday, May 15 at 8:45 p.m.
There is an interesting story as to how the duo got its name Steel Magnolia. "Everybody asks us that, we were actually playing together for quite a while without a name," Linsey said. "We were on our way to a gig one night and I threw it out there and it stuck. There's not a great story behind it."
"We threw it out there and said, we're Steel Magnolia," Jones added. "I said, We'll change it later."
The duo won the second season of the television talent show Can You Duet on CMT.
"It felt exhilarating, like biting into a peppermint patty or skiing down a mountain," Jones responded. "It was awesome, it gave us a lot of experience for TV. It prepared us for what was to come with the other upcoming TV stuff that we've done. Just playing big shows and being under pressure."
"Definitely a great platform to bring our music to the fans," Linsey added. "It was awesome."
What's the story behind your current single "Keep On Lovin' You"?
"Well, it came down to the final two contestants on Can You Duet and for the sake of TV and time, the winner had to pick a single," Jones replied. "A&R from the record label, Big Machine, had a hand in judging the competition. A&R from Big Machine brought us a group of songs. We listened to them and narrowed them down to three or four songs. We went back in the next day and as soon as we played 'Keep On Lovin' You,' its kind of like everyone looked at each other like that's the one."
The new country duo released a self-titled EP record on Feb. 23, 2010.
"It's five songs, we actually sang a couple of them on the show, Can You Duet, that we wrote called 'The Edge of Goodbye' and 'Ooh La La,'" Linsey said. "Then, obviously, the single, 'Keep On Lovin' You' is on there as well. We've got a couple of covers. We covered a Dwight Yoakam song called 'Fast as You' and 'I Need You,' actually we did on the show as well, a Faith and Tim song. It's just a compilation of all that. It's pretty cool."
Steel Magnolia was nominated for two awards at the Academy of Country Music Awards in April and is currently nominated for two CMT Music Awards.
"Last year, we watched the CMT Awards from the bleachers from the nosebleeds," Jones said. "As an artist or a performer, you get anxious. I kind of equate it to having to sit out at recess watching all the other kids play at kickball out on the field. You want to be out there, but you don't get chance to do it. It's hard to watch. Now, we're going to be a part of it. It's just great, a dream come true. Our dreams are literally coming true within the last year."
The new country duo made their debut on the Grand Ole Opry last October in Nashville.
"It's amazing, I think if you're in country music, that's the highlight of your career," Linsey responded. "Walking through the halls, it's just a feeling that you get and being on the stage is amazing. There's been a lot of flooding here in the last couple of days in Nashville. I saw a picture yesterday on Twitter and the Grand Ole Opry is completely flooded with water. Looking back on that now is amazing that we got to do that, have that opportunity."
Steel Magnolia will open for Uncle Kracker at the Downtown Hoedown in Detroit on Saturday, May 15.
"Yes, we are and we cannot wait," Jones replied. "It's probably going to be the biggest show we've ever played. It's going to be huge. We're just trying to decide what we want to play. We were wondering if Kid Rock was going to make an appearance with Uncle Kracker. I think that will have some part in what songs we choose. We want to play tribute to Detroit because the city has so much great music that's influenced us in so many ways. Everything from Motown to Kid Rock to Bob Seger, White Stripes, all the great rock and roll music from there."
Can you give me a preview of your upcoming Hoedown performance?
"We're trying to pick something that will get the crowd fired up," Jones added. "I think we're probably going to get 30 minutes to go out there and rock as hard as we can. We know it's going to be a crowd that's ready for some good entertainment. We're just going to put on the best high energy show that we possibly can and take the fans for a journey."
Will you guys be introducing some new songs at the Hoedown?
"Yeah, we've actually got some new songs that will be on our record," Linsey said. "Our record will be out in September. The next few weeks we're heading out on the Brad Paisley tour on May 21. We're just trying to get it all together. Yeah, we'll definitely do some new stuff. The new single too. We're going to play that as well."
How does it feel to join Brad Paisley on his upcoming H2O tour?
"It feels like putting on a nice warm pair of socks that you just got out of the dryer," Jones joked.
"We've always been big Brad Paisley fans and we have a lot of respect for Brad," Linsey added. "I've just heard nothing but great things from him. We're starting our first tour, we couldn't ask for anything more."
Since you guys are a newer act, where would you like to be in the next five or 10 years?
"We just take it day by day and we hope to be around in the next five, 10 years," Jones said. "It's a dream come true. We just put our heads down, take it week by week, day by day. We just try to rise to every occasion and every show that's put in front of us. We thank God for that opportunity."
Look for Steel Magnolia to perform on the upper stage at the 2010 Downtown Hoedown on Saturday, May 15 at 8:45 p.m.
For more information, visit bigmachinerecords.com/steelmagnolia or visit their MySpace page.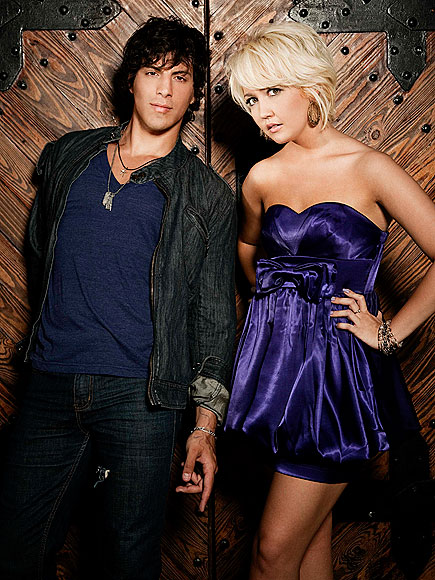 Photo credit: img.timeinc.net
Steel Magnolia will perform at the Downtown Hoedown this year.
COMPLETE COVERAGE OF THE 2010 DOWNTOWN HOEDOWN