"Pitch Perfect"
Comedy. Rated PG-13. 1 hour, 52 minutes.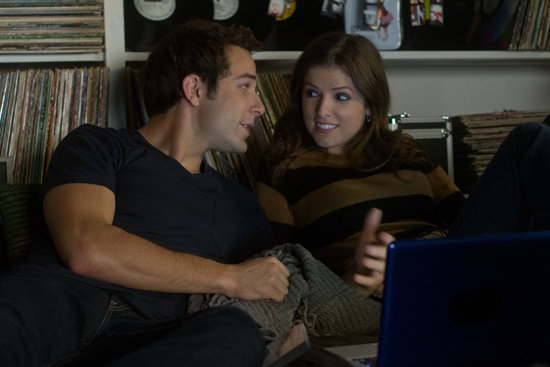 Photo by Universal Pictures
Anna Kendrick and Skylar Astin in Universal Pictures' "Pitch Perfect" - 2012
|
Anna Kendrick is one of my favorite actresses right now. I really enjoyed her work in "Up in the Air" and "50/50." When I heard she was in this movie, I put it on my list of must-see films.
Kendrick stars as Beca, a college freshman with no interest in joining on-campus clubs or organizations. She spent most of her time making music on her laptop. Beca was about to give up on college and move to L.A. to become a DJ. Her father encouraged her to stay in college and if it didn't work out after one year, he would help her move to the city of Angels.
Beca went to check out the activities event with her shy roommate and later decided to join the Barden Bells, an all-girl a cappella singing group. They only sang female pop songs and were known for their perfect looks. She was a downer and only really joined because of her father.
One of the lines that I remember from this movie is when Beca told her singing mates, "None of these songs are from this century." It was easy to tell that she was not giving it her 100 percent.
Then, she met up with Jesse (played by Skylar Astin) who sang with a rival all-male a cappella group known as the Treble Makers. The two began getting romantically involved.
The Barden Bellas finished second in regionals, but did not qualify in one of the top two stops at semi-finals meaning they were out of the competition. Shortly after, the two leaders of the group, Chloe (played by Brittany Snow) and Aubrey (played by Anna Camp), got into a pissing contest.
After an investigation determined that one of the top two a cappella groups had a member that was not actually in college, they were disqualified. That cleared the way for the Barden Bellas to perform in the finals at the Lincoln Center in New York City.
Then, Beca stepped up and became the new leader of the a cappella group. She made the decision to stop singing old songs from the '80s and begin singing newer songs that are on the radio today.
You'll have to go see the movie in order to find out how the Barden Bellas did at finals.
Jason Moore directed "Pitch Perfect." Mickey Rapkin wrote the book while Kay Cannon wrote the screenplay adaptation. Other stars include Ben Platt, Rebel Wilson, Alexis Knapp, Ester Dean and Hanna Mae Lee. The movie was shot entirely within the state of Louisiana. It is Rated PG-13 for sexual material, language and drug references.
The first five minutes of this movie were really slow. Don't give up on it right away. You won't even see Anna Kendrick until after the words "Pitch Perfect" are shown on the screen. Once that happens, you are in the driver's seat for a great movie. I think this movie will do really well, especially with the popularity of the FOX series "Glee."
OVERALL RATING: A-
Graphic credit: Universal Pictures
Pitch Perfect movie poster