"The Karate Kid" (2010)
Action/Adventure, Remake and Sports. Rated PG. 2 hours, 6 minutes.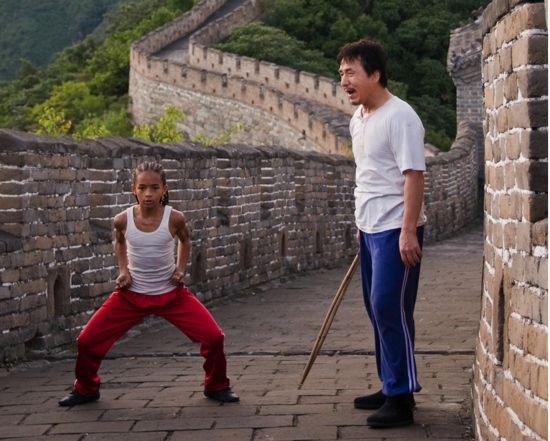 Photo credit: Sony Pictures
Jaden Smith and Jackie Chan in The Karate Kid.
The Karate Kid stars the young Jaden Smith (who plays Dre Parker), Jackie Chan (who plays Mr. Han), Han Wen Wen (who plays Meiying) and Taraji P. Henson (who plays Sherry Parker, Dre's mother). It is rated PG for bullying, martial arts action violence and some mild language. It is released by Sony Pictures. The film was shot in Beijing, China. This is a remake of the 1984 classic.
The movie opens inside a house in Detroit. Dre is measuring his height against the wall like he's done many times in the past. Then, we see many shots of Downtown Detroit including the Renaissance Center and Henry the Hatter, among many others. Dre's mother announces that she is getting a new job in Beijing. They pack up and get on an Air China flight direct to Beijing.
Once they settle in their apartment, the hot water isn't working. Parker asks her son to find the maintenance man, Mr. Han. He becomes very difficult to find. After a while, Mr. Han shows up at the apartment and fixes the hot water. Meanwhile, Dre is having problems fitting in with the other kids in Beijing. One of the students in school is a big bully and pushes Dre around.
Dre hates Beijing so much that he tells his mother he wants to go home. Parker responds, "there's nothing left for us in Detroit."
One day, Dre and his mother go walking and they discover a kung fu class. He seems really interested and wants to learn. Dre learns that the maintenance man is also a kung fu instructor. Dre starts spending a lot of time with Mr. Han. They get to know each other well and he trains him to do kung fu.
Mr. Han goes with Dre to the kung fu studio and convinces the instructor to tell the bully to leave Dre alone at school. The only requirement was that Dre had to participate in the annual kung fu tournament. The bully was one of the participants. You'll have to see the movie to find out if he wins or loses.
The film was directed by Harald Zwart and was written by Chris Murphey and Robert Mark Kamen. It also stars Yu Rong-Guang, Zhao Yi and Harry Van Gorkum. Producers included Will Smith and Jerry Weintraub, among many others.
I think The Karate Kid is a great film that will teach you to get back up and try again when you are knocked down. Don't give up! You will find success eventually.
OVERALL RATING: A
Photo credit: Sony Pictures
The Karate Kid movie poster