"Wall Street: Money Never Sleeps"
Drama and Sequel. Rated PG-13. 2 hours, 16 minutes.
Photo by 20th Century Fox
Michael Douglas, Shia LaBeouf in Oliver Stone's Wall Street: Money Never Sleeps - 2010.
Michael Douglas returns as Gordon Gekko, which continues from the last movie made 23 years ago.
The movie begins as he is getting out of prison on an eight-year sentence for insider trading and other illegal activities. As everyone is getting out of prison, he finds there is no one there to pick him up.
Shia LeBeouf plays Jacob Moore who is an investment banker working for a firm called Zabel Keller. This company is on the verge of collapse, but Jacob decides to weather the storm hoping things will get better. However, the company is bought out by a wealthy man named Bretton James (Josh Brolin) for only $3.00 a share. Mr. Keller, owner of Zabel Keller, is embarrassed and heartbroken, then jumps in front of a subway train to his demise.
Moore's personal life is turned upside down after losing his boss and mentor. He currently lives with Gekko's daughter (played by Carey Mulligan-which is his real-life girlfriend, by the way) and wants to marry her. He finally meets Gordon Gekko at a book signing event and is intrigued by him. Jake informs him that he is about to marry his daughter and that gets Gekko's attention. Gekko then wants to see his daughter, but she never wants to speak to him again. She never forgave him for not doing enough to save her brother from drug addiction.
Moore keeps the relationship with Gekko a secret from his daughter, even as he tries to set up a dinner for both of them to reconcile. Jacob confides in Gekko as he tries to get revenge against Bretton James for doing what he did to Mr. Keller's firm.
Wall Street: Money Never Sleeps is rated PG-13 for brief strong language and thematic elements. It was distributed by 20th Century Fox.
The movie is directed by Oliver Stone and reflects on the real-life financial crisis of 2008.
OVERALL RATING: B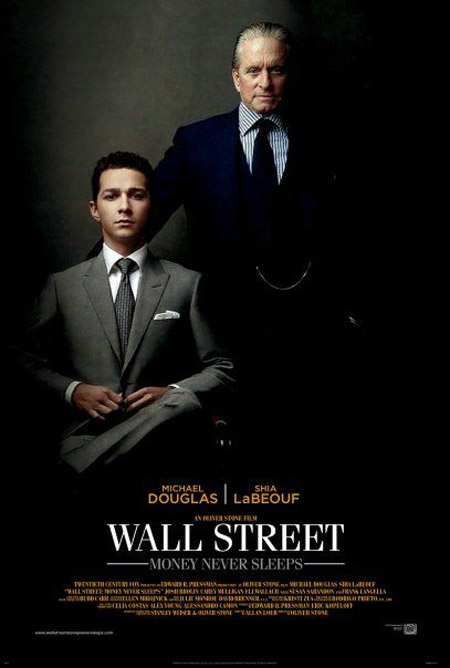 Photo credit: 20th Century Fox
Wall Street: Money Never Sleeps movie poster