Monday, 24 November, 2008 5:13 PM
Focus Detroit event honors local dignitaries of 40 or more years in business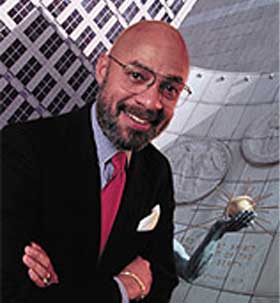 Photo credit: www.buildingsrus.co.uk
Former Detroit Mayor Dennis Archer was among those honored.
DETROIT -- The Focus Detroit event lived up to its name at the Guardian Building. Last Wednesday's gala was in honor of those whose commitment to Detroit, the region and their advocacy represents the spirit of the Motor City. "Every great city in the United States," said Marie Osborne of WWJ Newsradio 950, "has a heart. We live in very challenging times. That's why today the focus is on Detroit.
Honorees receiving the "Spirit of Detroit" award included former Mayor of Detroit Dennis Archer, whose other achievements includes bringing the Super Bowl to downtown Detroit. Archer, who name is "synonymous with Detroit," couldn't attend but accepted it via video. "Detroit is a word, means home. I was born here... Jobs don't create jobs' business create jobs...Detroit means opportunity. Despite the setbacks, the sun will rise tomorrow."
At 90 years old, Diane Edgecomb has been called by one colleague a legend in Detroit that touched many lives. Despire being blind as well as several heath reasons, she remains humble. "[I've] been here since 12 years old. Love the job, love the people. I missed our Coleman A. Young. I can't tell how many people did many things," Edgecomb stated in her video.
David F. Girodat, Fifth Third Bank President and CEO - Eastern Michigan, said that it takes people such as these to create a great city like Detroit: people with passion, leadership, and improving quality of life as well as commitment.
"Like Fifth Third Bank," commented LEE Group President Mark Lee," we have to step up to the plate. My heart is in Detroit. Detroit is a great city. We know there are challenges right now, but we believe this is the beginning of a renewal."
Other honorees included Marsha Bruhn, Charles A. Forbes, Ann Lang, Dough Rothwell and pizza/sports extraordinare Michael Illitch.
"Detroit is a city and Detroit is the center of our region." Rothwell said via video. "Even though we're facing tough times, with your help people need to have a sense of hope. But the reality is, this too shall pass...Detroit has got a great future but it's going to be different.