Tuesday, 9 September, 2008 2:44 PM
Is Your Child's Halloween Being Ruined By Bullies?
How Parents Can Take Preventative Action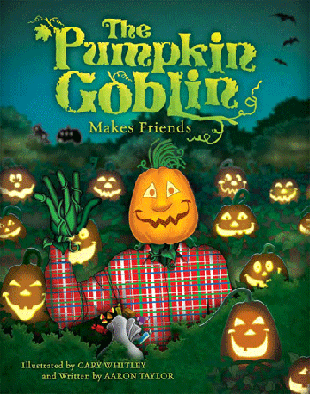 Photo courtesy of www.pumpkingoblin.com
Vancouver, WA – With Halloween right around the corner, children all over the nation are choosing "who they want to be" this year. Batman? Spongebob? Hannah Montana! Whereas this tradition is one that every child relishes in, social pressures have made kids think twice about who they want to choose. Will they make fun of me? Will I be bullied because of my choice?
It seems even life's simple pleasures such as dressing up on Halloween can be taken away by the threat of a bully attack. Currently, 30 Percent of children in the United States are involved in school bullying according to National Youth Violence Prevention. That is 5.7 million American children who either are bullies or are picked on at school. Why has this become such a huge problem?
"We've forgotten to raise our kids with kindness," says Aaron Taylor, father and author of the new book Halloween-themed book "The Pumpkin Goblin Makes Friends" (Greenleaf Publishing, 2008). Taylor could blame the changing dynamic of the American family or he could point the finger at the internet for making bullying less personal. "It doesn't matter to me why kids pick on each other," he says. "I just want to be able to help stop it."
Scholastic.com suggests the budding bully needs as much attention as the child who is being victimized. The website reports that being the aggressor as a pre-teen is likely to inhibit positive relationships later in life. In short, the school bully is just as likely to grow up traumatized as the victim.
Taylor's book "The Pumpkin Goblin Makes Friends" is about a monster with a child's heart who is inspired to stop picking on neighborhood children and to start mending the relationships he had damaged. "I feel it is very important for children to learn about the harmful effects of bullying at a young age", says Taylor. "If we can reach them before they experience it first-hand, our children will be able to identify and prevent this destructive behavior."
A Columbia University study finds bullying now starts as young as pre-school and intensifies as the angry child ages. More girls bully than boys, but boys tend to be more physical in their attacks. The study goes on to suggest the reason for bullying is the same as the result of it: low self esteem and a lack of friends.
"Reaching kids on their own level is the only way to stop the cycle," says Taylor. "I geared this book toward young children to show them how unhappy the Pumpkin Goblin is when he picks on the neighborhood children. It isn't until a little boy befriends him that the big bully realizes how much nicer it is to have friends rather than people who are afraid of you. A central message here is picking on others doesn't make your pain go away."
The moral is to give your children the tools to not be a bully and give them the ideas of how to make a bully into a friend rather than a rival. Kindness and respect isn't just the best thing for the kid being attacked - it's the best thing for the bully too. As this Halloween, it is definitely a treat, rather than a trick.

About Aaron Taylor
Aaron Taylor is the author of "The Pumpkin Goblin Makes Friends" and is currently at work on his second children's book. Taylor has specialized in the delivery of financial advisory and valuation services since 1993. Currently he oversees and performs valuation and cost segregation projects including both real and personal property components. He currently lives in Vancouver, WA with his wife and 3 children. Taylor launched this book series to be a role model and inspire his own children to seize their dreams. www.PumpkinGoblin.com
Source: News and Experts