Sunday, 24 August, 2008 11:14 PM
Hollywood Has a Lot to Offer to The Motor City, experts say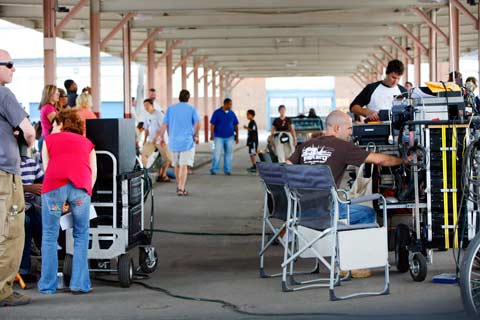 PHOTO CREDIT: Marvin Shaouni / Model D
Film crew setting up in Eastern Market for Drew Barrymore's new roller derby film "Whip It!"
DETROIT -- Talk of Hollywood coming to the Motor City was discussed on Thursday with the Model D Speaker Series on Film at the College of Creative Studies, which is right across from Wayne State University.
Speakers included Tony Wenson of the Michigan Film Office (www.michigan.gov/filmoffice) and Erik Tungate of the Detroit Economic Growth Corporation (www.degc.org), a private non-profit corporation dedicated to give aid in economic and community growth; their services include attracting new businesses, and help find available development sites as well as finding settings for film projects to shoot in Michigan.
Among items discussed at the event was the "value proposition". A concept where the MFO will execute policies and procedures that not only provides information and makes the inquiry and application process simple, but also actively engaging and assisting filmmakers, new media producers, infrastructure developers, etc. MFO, Wenson continued, really reorganized for the growth of Michigan's film industry and will improve their website and online production guide and "crew list".

He also responded to the statements of Warner Brothers looking into purchasing of the Old Ford Motor Company in Wixom, and Universal seeking to buy the Pontiac Silverdome as just "rumors".

Wayne County and the City of Detroit's film industry program will be offering local and regional partnerships as well as streamlining permitting procedures, and the MFO will post internships -- paid or not -- for college students on their website.

As the Chief Operating Officer for MFO, it is Wenson's job to bring producers to the Mitten state. Tungate is the business development manager for DEGC, in which he works to leverage existing incentives and Detroit's assets to help bring the film industry here.

"We're unified as a state moving forward" he went on. "This is a really cool thing to do -- trying to promote local community as well as Hollywood."
Clint Eastwood, Drew Barrymore and Goldie Hawn have been seen filming recently in Michigan. Some of the films that are currently being shot in Michigan include "Whip It!", "Dead Heads", "Offspring" and "Art House".
For more information on casting calls, visit http://michigan.gov/filmoffice. Craigslist is also a great resource for finding Michigan jobs in the film industry. Visit tv/film/video/radio jobs and talent gigs.