| | | |
| --- | --- | --- |
| Local News / Sports | | |
Thursday, 18 August, 2011 0:13 AM
i9 Sports launches 'Stop Youth Concussions Crusade'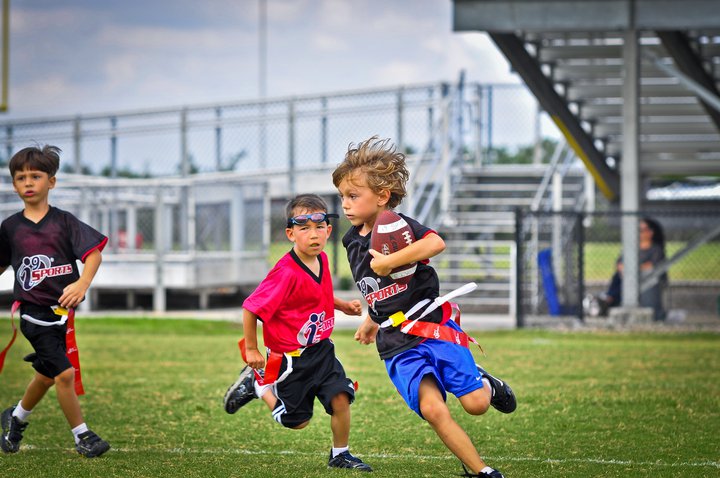 Photo credit: www.newbedfordguide.com
Children playing flag football with i9 Sports
|
DETROIT -- With over 130 locations nationwide and six Michigan locations that include centers in Royal Oak and Rochester, i9 Sports has become the leading youth sports franchise organization in America. As we head into football season, i9 Sports has teamed up with former NFL Great, Brad Culpepper, to launch the "Stop Youth Concussions Crusade" with the sole purpose of promoting flag football as a safer alternative to tackle football, especially where boys under the age of 13 are concerned, as their brains haven't fully developed.
So, there are questions parents must ask themselves: What are the warning signs of concussions? Are our kids safe playing tackle football? Isn't flag football the same as touch football?

Just ask Detroit-based i9 Sports Owner Denis Schubek, who believes parents need to be aware of their children's safety on as well as off the field if the wrong hit occurs.
"They don't know how to use their foreheads; safety is our goal at i9 Sports" he said. "As an NFL running back, you're trying to shake them. Children don't know how to move their feet."

Back in my day, I played some football, but only during recess and in the neighborhood, but the difference is I was playing for fun. Still, even in that situation, the threat of concussion was present, and the potential damage frightening.
"You're talking about sports and competition" Schubeck continued. "The kids don't wear soft helmets. For older kids, their brains are still developing. But also the kids hit harder – which is cause for more concern. At i9 Sports, if your child has a hard fall, we have staff on site. Our staff knows what to look for as they have guidelines that have taught them how to handle concussion situations. We don't want to take any chances when it comes to concussions. That's why we've implemented the 'When in Doubt, Sit Out' policy."
We all hear the stories of parents arguing with the coaches and referees over "bad calls" and their kids not being called to play, but i9 Sports provide the parental pledge: if Mom and/or Dad have a problem with them, they have to be reminded of the parental philosophy.
"With the young ones, it's more instructional" Schubeck said. "At that age, it's teaching boundaries. It's put a smile on my face -- watching those kids get it."
For more information about i9 Sports, visit www.i9sports.com.